An 81-year-old who set up an all-woman rubbish collection team in her village in Lebanon now has a stream of visitors asking how she did it. For nine months in 2015 and 2016 rubbish piled up on the streets of the capital, Beirut, and even now a lack of landfill sites means some of the city's waste is being thrown in the sea. Zeinab Mokalled has shown that when government fails, do-it-yourself local initiatives can work.
"There used to be dirt everywhere and the kids were filthy," Zeinab Mokalled tells me.
She is remembering the 1980s and 90s, when Israel occupied part of the south of the country for 15 years, and waste collection came to a halt in her village, Arabsalim.
As the years went by, it piled up, and Mokalled went to the regional governor to ask for help.
"Why do you care? We are not Paris," he told her.
"I knew that day that I had to take it upon myself," she says.
Mokalled called on the women of the village to help, not the men – partly because she wanted to empower them, and partly because she thought they would do a better job.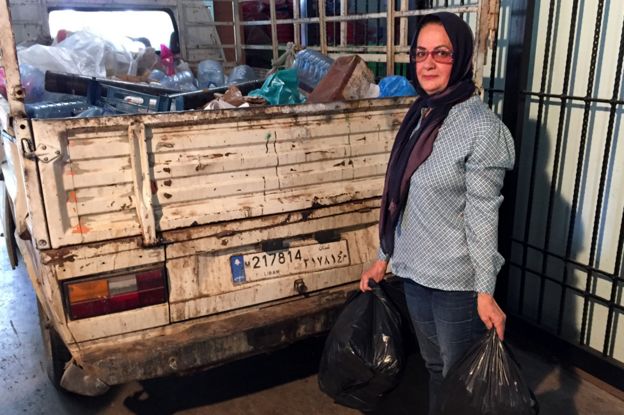 It would also have been up to the women to sort the recycling, and probably to put out the rubbish. So Zeinab needed volunteers to go door-to-door to get the message to the women in every house – and for this job, in a Lebanese Muslim community in the mid-1990s, men would have been inappropriate.
They had no equipment, and no infrastructure. So how to begin?
Mokalled's friend Khadija Farhat bought a lorry out of her own pocket. Mokalled herself turned her back garden into a storage area for recyclable waste.
It didn't seem likely that the 10,000 villagers would pay to have their rubbish collected, so the volunteers paid for it themselves. Nineteen years later they still do, each of 46 members putting in about $40 each year.
"Household recycling was the best way forward," says Mokalled, who named the organisation Call of the Earth.
To begin with they recycled glass, paper and plastic. Recently they started collecting electronic waste and have employed a researcher to find the best way of making compost in the hot and dry conditions of southern Lebanon.
The only help the waste collectors received from the local authorities, after three years' work, was a gift of 300 plastic bins and a piece of land, which enabled Mokalled to get her garden back.
At the same time they started renting a lorry to work alongside Farhat's, and hired a male driver – though they continued to accompany him to ensure he was not alone when approaching women.
After 10 years they received a grant from the Italian embassy to build a warehouse, which is where Mokalled now receives visitors – schoolchildren, students and activists – who come to study how Call of the Earth works. And the numbers have increased since the closure of Beirut's main landfill site in 2015 led waste to pile up around the city, and the surrounding area of Mount Lebanon.